Past Thursday (27 June 2019), the time had come again for the event we hold every year under its well-known motto "Summer, Sun, solvimus", and which was attended by many customers or prospective customers.
The arrival of one speaker created particular excitement among us. He flew in on his sports aeroplane coming from Switzerland, and landed on the Pennewitz airfield which is located just about 20 minutes away from our place. Of course, we were keen to take a picture right away to keep a record of this event.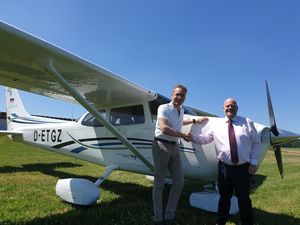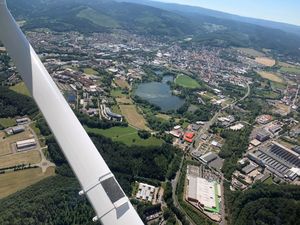 This year as well the highlights of our Technology Afternoon included a product workshop, instructive presentations, interesting discussions, and also a buffet offering Thuringian barbecue specialties.
To start the day, a workshop was held on how to apply our MUC500 W1 and MUC.easyplus data concentrators (next generation of MUC.easy) in practice. This was the occasion for showing the innovations that come along with Linux, and the scope of functions offered by both devices as well as the features available in the future.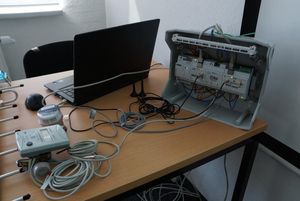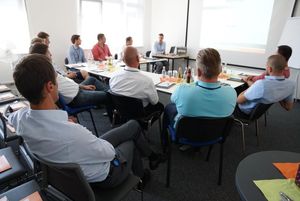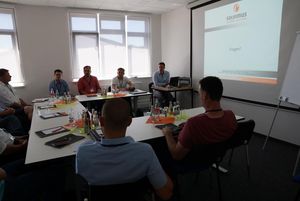 After having a lunchtime snack, we began our presentations' afternoon which was full of exciting lectures.
In the first presentation held, comtac AG's General Manager Mr Roth illustrated the advantages which can be brought about by the new LoRa radio technology for IoT and for the energy industry.
He gave an insight into this technology and its system architecture without leaving other low-power networks out of consideration. A comparison between the technologies quickly showed their corresponding advantages and drawbacks. Another part of the presentation was then dedicated to the design-in and to the practical aspects involved in using LoRa. You can see that this works when you have a look at Switzerland where Swisscom operates a network reaching approximately 80% of the population. We also got a direct impression of the distributed climate sensors it contains.
After this, Mr Zogg from TURAS AG gave a paper on the 2050 energy strategy as seen by a Swiss power utility company. He addressed the legal situation, the various stakeholders, the discussions among the public, and showed how the topic of data security is dealt with during the smart meter rollout.
This opens up new and different markets for energy utility companies, and generates new opportunities on the marketplace which were also covered as part of this presentation.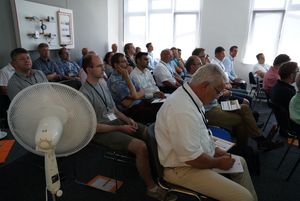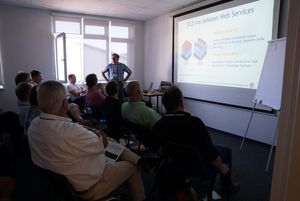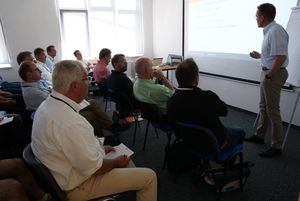 As the weather was very hot on this day, we took care that various refreshments were served. But the major cooling highlight certainly was to have an ice cream car present. This elicited enthusiastic feedback for us like: "The ice cream car was the best idea ever!"
After a refreshing ice cream and a cup of coffee with a piece of freshly baked cake to gain strength, we carried on with our presentations.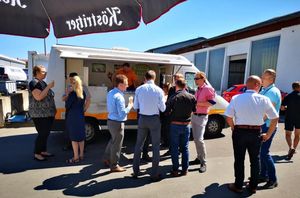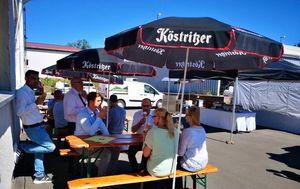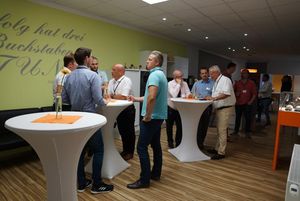 The keyword focused on by Dr Jürgen Nützel from 4FriendsOnly.com Internet Technologies AG in his talk was the cloud. He impressively demonstrated all the functions offered by a cloud solution and, first of all, the opportunities offered for backing up data and ensuring data privacy. There will hardly be any way around this in the metering environment from now on.
To conclude the presentations, Mr Scharf from PHOENIX CONTACT Electronics GmbH read a paper reporting on the technical options available in building operations. A smart building is not just a buzzword any longer. A large number of sensors which are cross-linked to a control centre are making buildings, their energy flows, and their usage more and more transparent. This can help to both save resources and money, but also to avoid failures.
Our 11th Technology Afternoon was well received and elicited a positive response from all participants. They praised its very good organisation, the attractive and professional presentations, and the interesting conversations they had among each other. In a cosy atmosphere and with a buffet full of Thuringian barbecue specialties and cool beverages, we wound up our Technology and Networking Afternoon.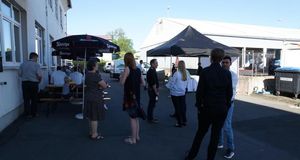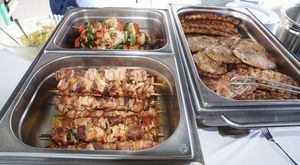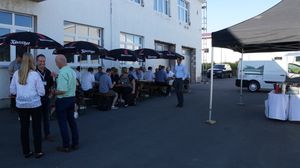 We would like to take this opportunity and say thank you to the lecturers for their informative presentations and the practical insights they offered into different subject matters that move the energy industry.
We would also like to give our heartfelt thanks to all customers, employees, and other contributors who all had their share in the successful preparation of the Technology Afternoon.
But you know what they say: After one Technology Afternoon is before the next Technology Afternoon!
The date for our 12th event has already been set: 25.06.2020. SAVE THE DATE!
So we are looking forward to another Technology Afternoon which will be just as rich in events.