💡 An enlightening product workshop
🤯 Savvy presentations
💬 Inspiring discussions with persons from our industry sector
🍦 Many scoops of ice cream as refreshment and
🔥 Thuringian barbecue specialities …
… this sums up in brief our Technology afternoon this year, held for the 15th time on 22 June 2023 for our clients, partners and interested persons in our premises in Ilmenau.
The first participants showed up right on time at 8:30 to attend Erik's product workshop on our data concentrators MUC.easyplus and MUC.one.
What they learned:
Our data concentrator MUC.easyplus is an all-rounder with a large variety of interfaces – be it M-Bus, wM-Bus, Modbus (RTU, TCP), RS-485 or S0 (pulse input). It communicates via Ethernet as well as LTE & NB-IoT.
The MUC.one is a compact data concentrator for M-Bus or wM-Bus to transmit data from a meter via NB-IoT. The optimization of costs and function range, combined with global standard technologies permit its usage in the international mass market.
After a nutritious snack in a break and lunch, our afternoon programme started with the first two presentations.
The first to present was Markus Müllenberg, Hörburger AG with his presentation entitled "Energy monitoring for the Institute for Federal Real Estate". It was pointed out that the challenges in the installation of energy monitoring solutions in numerous and very diverse properties are not exclusively of technical nature. Also the investment in organization and logistics is considerable.
The presentation of Konstanze Olschewski from Alpha Analytics UG & Co. KG focused on "Artificial intelligence" (IA). This was not about ChatGPT, but about the capacity of IA to learn and the IA drift behaviour. The relevant question she asked: How good can a consumption prediction be tomorrow?
With the summerlike temperatures, everyone was glad to get a refreshment from the ice cream man at coffee break time.
After tasting many different scoops of ice cream and freshly baked cake, the presentations continued.
The presentation "From the meter in the Cloud. The secure and simple reading of consumption data with AWS IoT" by Dr. Jürgen Nützel, 4FriendsOnly.com Internet Technologies AG, centred around the secure transmission of meter data in the chain from the meter to the measuring service provider, also in the context of cloud systems.
Afterwards, Jannis Held from WAGO GmbH & Co. KG reported in his presentation "Efficiency and transparency for your Smart Factory" on energy management in factories and the options to optimize both costs and loads.
All speakers received positive feedback. Our guests appreciated the real-life and instructive presentations, providing insight into diverse aspects of the energy sector.
As a small 'thank you' for their varied and entertaining presentations, the 4 presenters received a small gift.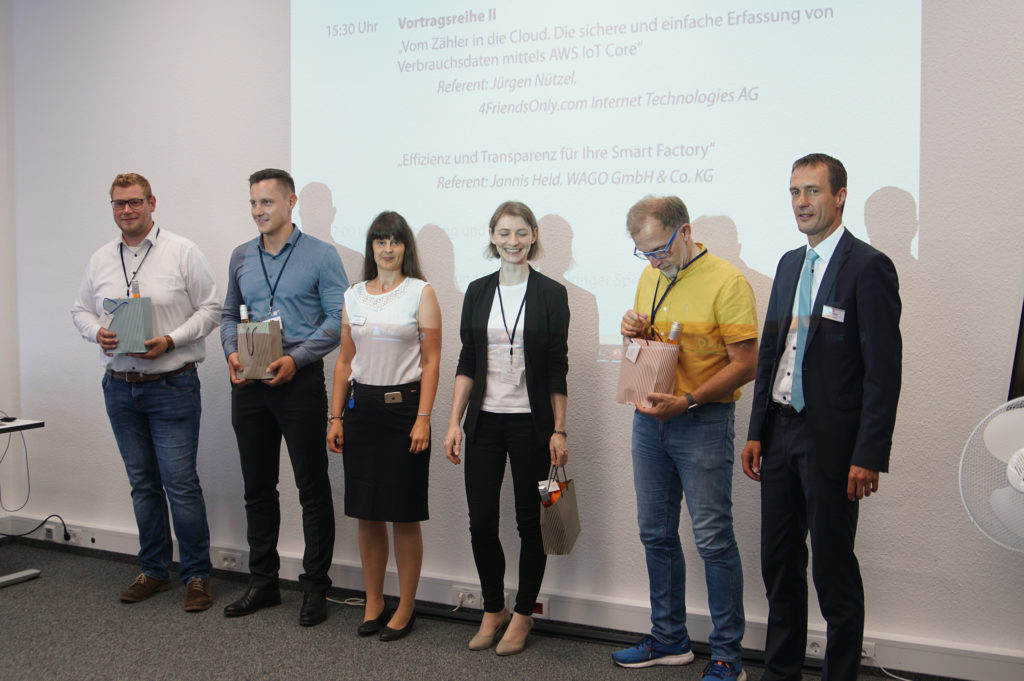 Following the presentations, all participants were invited for a tour of the company, offering a peek behind the scenes.
The eventful day faded out on our large outside terrace with an informal get-together and Thuringian barbecue specialities by GOURMET Partyservice. Our "Signature Drink" in solvimus-type orange and brand-labelled glasses added up to chilled beverages and beer.
The 15th Technology afternoon was very appreciated and the positive feedback throughout pleased us a lot.
A "perfectly organized event" and "intriguing presentations", thus was the tenor of many participants.
Here two statements that we cherish a lot:
"A great event, perfectly organized. Networking and intriguing presentations, teamed up with Thuringian hospitality. Thanks for having me over."
"Thanks a lot for the organization of this technology afternoon! It was very interesting for both me and my co-worker, and an all-round great event."
We take the occasion at this place to thank again for the outstanding presentations that constituted the major part of our technology afternoon.
We also would like to express our heartfelt thanks to all participants for their great feedback and the lively interaction.
And of course to our solvimusians who painstakingly prepared the ground, and in whose absence the event would not have seen the light of day.
We are thrilled already for the next year. As the folk saying goes: after the Technology afternoon is before the Technology afternoon!
In this context:
📌 SAVE THE DATE: 16th Technology Afternoon on 13 June 2024