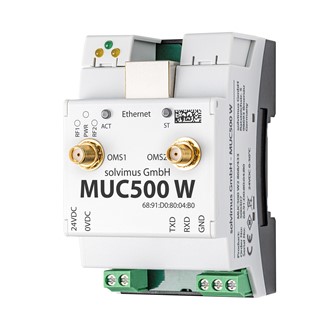 Data concentrators for Smart Metering
MUC500 W1 / MUC500 W2
Description
The powerful data logger for huge installations with 4 GB storage.
Metering interfaces are up to two independent wM-Bus (OMS) channels, Modbus TCP and one RS-232 interface for connecting an external M-Bus level converter. Regarding this communication the MUC500 M offers up to 500 unit loads on the bus lines.
The MUC500 communicates via Ethernet.
An integrated web server offers complete configuration via a standard web browser. The automatic bus scan (with external level converters) allows an easy setup and selection of data points.
The encrypted or unencrypted data transmission via FTP, MQTT, SMTP (e-mail) and TCP takes place as a CSV, XML or JSON file to an energy management system, billing system or for visualization purposes. The Multi-Channel-Reporting (MCR) function allows the sending data to up to 10 different instances.
Optionally, the MUC500 is also available with Modbus TCP or BACnet/IP extension.
Find out more about our data loggers in our blog posts.
Downloads