Ilmenau is family friendly
City life in the green idyll
Ilmenau lies in the "green heart" of Germany, logistically well connected in the Thuringian Forest. The university town offers numerous sights, historical places and an incomparable experience of nature, not only because of the surrounding area. Cities such as Erfurt, Weimar and Jena are also quick and easy to reach by car and train.
In addition to the good infrastructure, Ilmenau is also a wonderful place to raise children, to do sports or to follow in Goethe's footsteps.
Ilmenau has something to offer families.
This is the result of a study for a magazine from Berlin.
In the search for the "most family-friendly cities in Germany" in the areas of childcare and education, traffic infrastructure and public transport as well as affordable housing, the city of Ilmenau came in second behind Passau and ahead of Freising, Bayreuth and Reichenbach, the city administration announced.
The magazine Kommunal from Berlin came to the conclusion that Ilmenau had a stable population development, and that the economic and social conditions were above average. Ilmenau has many day-care centers, schools, technology companies and commercial enterprises. The number of school, training and study drop-outs is low. This means that Ilmenau offers very good educational and career opportunities.
The train connection leads in 50 minutes to the state capital Erfurt or in two hours to Bavaria. The magazine commissioned the Contor company to examine 585 medium-sized towns (20,000 to 75,000 inhabitants) on the basis of 67 location factors.
Translated with www.DeepL.com/Translator (free version)
www.contor.org/studien/kommual
Source: Thüringer Allgemeine of 15.05.2020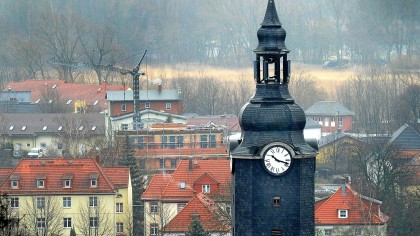 An Ilmenau view from the Sturmheide to the tower of the Jakobuskirche.
Photo: Ralf Ehrlich
We asked our employees about their favorite places in and around Ilmenau.
This is the result.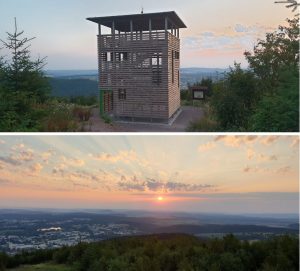 Observation tower at top of Lindenberg in the early morning hours
Photos: Dirk Bechmann
Dirk Bechmann, Key Account Manager:
"My recommendation is the Lindenberg with its new observation tower. It faces the city side and is about 9 m high. The tower was built in 2019 and is located about 20 m below the 749 m high peak of the local mountain of Ilmenau. The photos show a sunrise in August 2020 around 6 a.m. We had a snack with us and it was wonderful to have breakfast there and to enjoy the silence. During the day, you can also stop for a meal in the restaurant "Bobhütte". It is located at the top of the Lindenberg."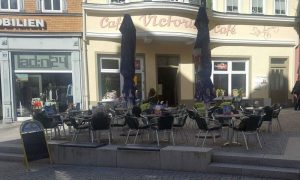 Eiscafé Victoria, photo: Facebook fanpage
Dirk Bechmann, Key Account Manager:
"Furthermore, I can recommend the ice cream shop "Eiscafé Victoria"; in the heart of the pedestrian zone in Ilmenau with a fantastic terrace. Here you can get everything the heart desires: homemade cakes and pies, homemade ice cream and waffles. Especially important for me: The portafilter machine for the most delicious cappuccino or espresso. And everything served by really friendly waiters and waitresses. The beautiful view into the shopping street is included."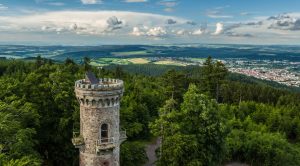 Observation platform on the "Kickelhahn" tower.
Photo: outdooractive.com
Remo Reichel, Chief Technical Officer:
"The observation platform on the "Kickelhahn" tower.
I like the nature, the forest, mountains and sports. Everything is combined there. First, you go uphill in a sporty way, straight through the forest and then you have an unhindered all‑round view from up there. Oberhof, the mountains Schneekopf and Inselsberg are also visible as well as the Ettersberg near Weimar and, in my opinion, even the Kyffhäuser (low mountain range). The ICE track and the highway are striking buildings and you have a beautiful view over Ilmenau."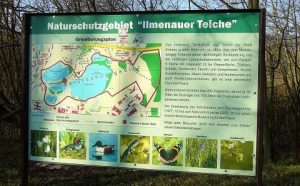 Information board for "Ilmenauer Teiche"
Photo: outdooractive.com
Romy Schneider, Marketing Manager:
"I like to spend time with my family in the nature reserve "Großer Teich" (large pond). There are a lot of possibilities for relaxing. On the shore, there are large lawns invite you to sunbathe, boats are available for rent and in the restaurant "Haus am See" you can enjoy a delicious meal. Children can use the newly built playground for romping and discovering. Animal fans can also have a lot of fun: Swans and ducks can be observed and in the small animal park you can see many native animals like goats, donkeys and racoons. It is possible to spend a whole day here without getting bored."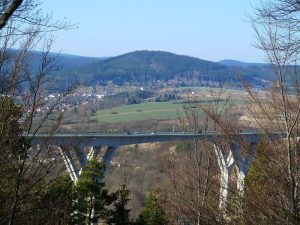 Arlesberg near to Geraberg, photo: de.wikipedia.org
Uwe Vogler, Production:
"My favourite place or rather my favourite environment is the Arlesberger Grund. It begins in Geraberg in the district Arlesberg. From here you can hike along the river Zahme Gera through the Gabeltal, past the Hungertal pond, over the Löffeltal to Webers Geräum. Here is a wonderful place for rest and have a barbecue. Then you can walk on to Gehlberg or to the mountain Schneekopf or back over the Pfanntal, a valley that looks like a ravine. In this beautiful piece of untouched nature, you can relax and enjoy the surroundings."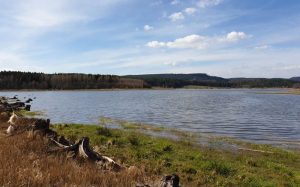 Reservoir Heyda, photo: Romy Schneider
Katharina Bernd, Team Assistant and Human Resources:
"Actually, the student clubs on the campus of the Technical University Ilmenau are among my favourite places. Unfortunately, parties are not possible at the moment due to Corona, I discovered a new favourite place, the artificial lake in Heyda. There you can go hiking and enjoy the silence of nature. Around the lake is a beautiful hiking trail (approx. 8 km), you can follow it through the forest or directly along the riverside. The Steakhouse Riverdam invites you to a refreshment after the walk."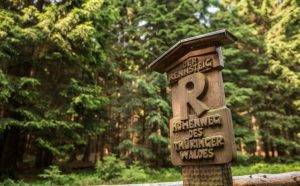 Forest path on the Rennsteig, photo: outdooractive.com
Mareike Petermann, Internal Sales:
"My favourite place is the forest along the Rennsteig. You can enjoy the silence and the nature there, moreover, you have a wonderful view. During a walk, I love to breathe the fresh air of the forest, it is pure relaxation for me and I can easily forget the stressful daily routine."