For 2021, we have set some goals for ourselves. We want to grow further, develop new smart solutions for our customers and we want to become even more sustainable. But what does it mean when we say that we want to reduce our ecological footprint and act more resource-efficiently?
Many companies take up cause of sustainability. That is good for the image, but we want to achieve more than that.
After we have already achieved so much in the area of employee health and togetherness in recent years, we now also want to assume long-term responsibility for our employees and their families. Because this is where our responsibility begins. We dedicate ourselves to this important issue not because of the image, but because we really want to contribute something.
Therefore, we examined various possibilities what we can do as a company to create added value. Not only big gestures matter, but also very concrete measures with sometimes smaller and sometimes larger effects. In this way, we want to act as a role model and show customers, employees and partners how well the topic of sustainability can be implemented in a modern industrial company.
Our current project is the recycling box of NABU (Nature and Biodiversity Conservation Union Germany) under the motto "Mobile phones for bumblebees, bees and co.". All kinds of mobile phones, smartphones, tablets – along with accessories – are collected in a box provided by NABU. When the box is full, it can be sent for free to a recycler. The main priority for NABU is the proper disposal and recycling of mobile devices. For the collected mobile phones, the Telefónica Deutschland Group donates a fixed sum to NABU each year, which flows into the NABU insect protection fund.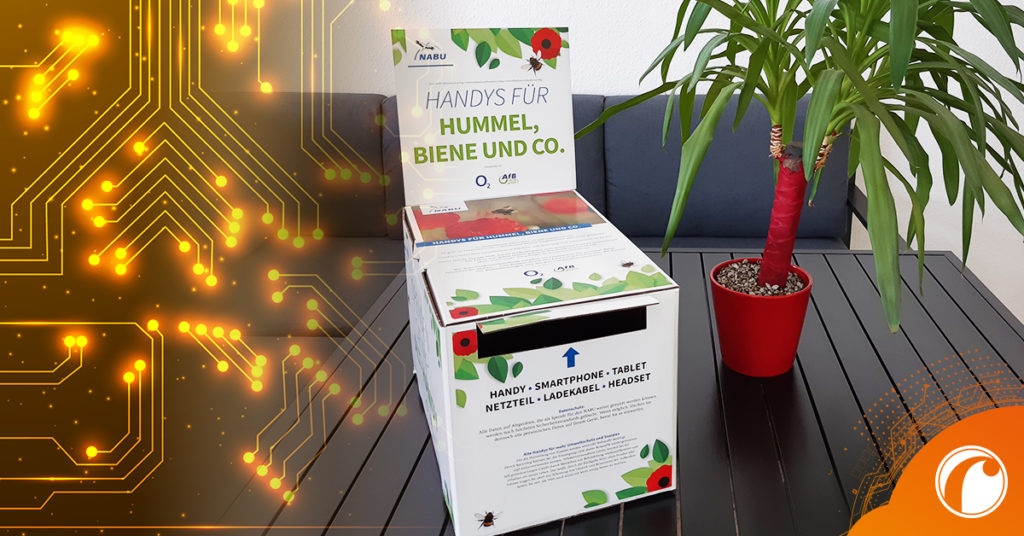 As a developer and solution provider for smart metering technology, the responsible handling of electronic waste is extremely important to us.
The German Environment Agency writes: "2,375,643 tonnes of electrical devices were put on the market in Germany in 2018, an increase of around 294,000 tonnes (about 15 percent) compared to 2017." Germany thus missed the European collection rate of 45% by a narrow margin (43.1%). However, the average for commercial appliances is only 25%, the Environment Agency ascribes this, among other things, to the lack of a free take-back obligation. Reason enough for us to get involved in at least one area.
Shortly after the collection box arrived, the first disused smartphones and telephones were put into it. In this way, we want to make the valuable resources available for recycling, which would otherwise be lost if they were not disposed properly. Of course, we are already working on further possibilities to get involved in this area.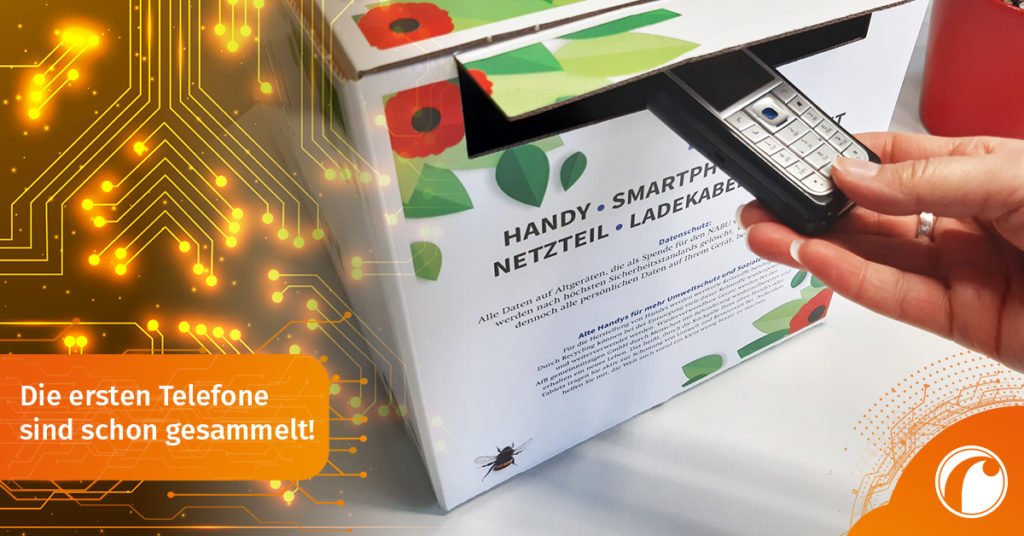 Furthermore, we have already initiated a number of additional improvements in the past, such as the digital recording of the energy consumption of our electrical devices, electric hybrid company cars, an almost complete paperless office due to an intelligent digital data management system, water carbonators with tap water instead of water bottles, LED light throughout and much more.
Are you interested and want to know more? Follow us on Facebook and LinkedIn for updates and small inspirations on this topic.
Do you want to use smart technologies to make your business more sustainable and also make a contribution? No problem, our sales department (+49 3677 7613066) will be happy to advise you on the possibilities at any time.
Source German Environment Agency: https://www.umweltbundesamt.de/presse/pressemitteilungen/elektroschrott-deutschland-verfehlt-eu-sammelquote