To project a smart metering infrastructure, it is crucial to know which communication technology is best suited.
Ever since the origins of smart devices, the technology has progressed as rapidly as the expectations with respect to their functionality and data availability.
The usage ranges from a reading once a month till real time to provide consumers an insight into their load and consumption profile at any time or to analyse the network quality at short intervals.
Thus emerge new mobile radio technologies like NB-IoT, combining low communication costs and a simple integration of the device.
We elucidate the terms as well as the advantages and disadvantages of broadband and narrowband technologies.
Please refer to this figure: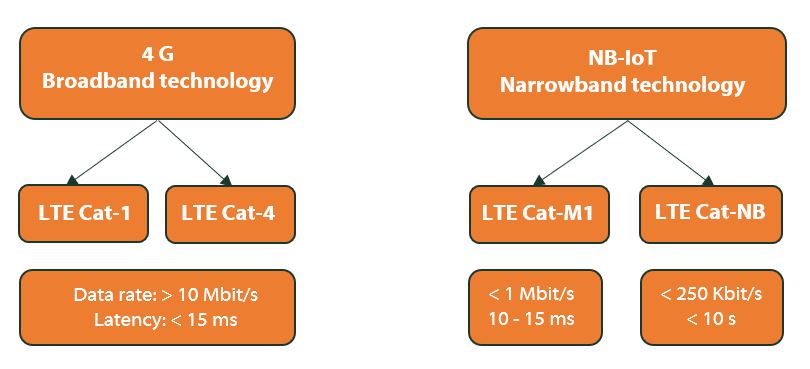 Broadband variants like LTE Cat-1 and LTE Cat-4 are characterized by a high data rate and a low latency. In contrast, the narrowband variants LTE Cat-M1 (LTE-M) and Cat-NB have a low data rate and a high penetration capability.
LTE Cat-M1 and Cat NB1 (NB-IoT) are mobile technologies specifically geared towards applications in the "Internet of Things" (IoT).
With their scalability and the cost-effective stable communication, they are perfect for smart metering applications.
Whereas the common mobile network provides a high data rate in short time and low latency, the focus is reversed in the narrowband technology. Small amounts of data are transmitted, and this only rarely. This results in a very good (10 times superior) network coverage at low power demand. The building penetration is very high. Thus, data can also be transmitted via NB-IoT in hard-to-reach premises like basements.
The quantity of connected devices per network cell is far larger in NB-IoT than in broadband LTE. Addressing of up to 50,000 participants is feasible. NB-IoT is a good alternative especially in densely populated areas with LTE networks already under full capacity.
Further, the transmission costs are low because less data are sent in general. Most providers offer "smaller packets" at lower cost.
LTE Cat-1 enables a high data rate (1 – 10 Mbit/s and NB-IoT 250 Kbit/s) and can thus transmit a multitude of data in short time.
Further, the latency period, that is the time needed by a data packet from its source to its destination, is with 15 ms far less than with NB-IoT (up to 10 s). This must be kept in mind for remote access. Caused by the low bandwidth, remote access by NB-IoT is considerably slower than by LTE.
Our data concentrator MUC.easyplus exists as a broadband as well as a narrowband variant:
MUC.easyplus 4G -> broadband, supports LTE Cat-1 (frequency range 1,800 MHz or 2,600 MHz)
MUC.easyplus NB -> narrowband, supports LTE Cat-M1 and Cat NB1 (900 MHz and 800 MHz in the GSM or LTE network)
How to select the appropriate technology?
In most cases, the data concentrator MUC.easyplus is installed in the basement of a building. Here, a high penetration capability is decisive and NB-IoT is to be preferred.
High data rates are not required for our MUC.easyplus as no large amounts of data need to be transmitted.
A better range and accessibility are more important.
Based on our extensive experience in the rollout of smart metering projects, we came to the conclusion that none of these technologies can be regarded as superior in general.
The particular case must be evaluated to determine which IoT technology is best suited to implement one's metering project. But as a rule of thumb, we can recommend NB-IoT as it was designed for the usage of our MUC.easyplus.
The following questions can aid you to identify the appropriate technology:
Which usage is intended?
Which infrastructure is available and at which locations are the devices installed?
Is frequent remote access required?
Which technology is supported by my IT provider?
We hope that we could provide you a good overview in the subject.
Do you want to implement smart metering with IoT technology, do you have further questions or would like to have more information on our products?
Give us a ring under +49 3677 7613066 or drop us a line via e-mail to sales@solvimus.de. Our sales team is glad to assist you!