3D printing at solvimus
Most people know us as a supplier of devices for remote meter reading. So why should we use 3D printing and for what?
An important pillar of solvimus is the development service: We continuously develop electronic modules for special applications in cooperation with our customers. Again and again, the problem of "packaging" arises here, i.e. finding a suitable housing. While there is a large number of ready-made housings, especially for switch cabinets, there is only little choice of housings that are used closer to the end customer. Finding something suitable or even "chic" is almost impossible. Therefore, the most obvious thing is to design our own housings and to print them for prototypes and also small series.
Moreover, we also constantly need aids, tools and other forms in production and in the laboratory environment to facilitate the work. Here, too, 3D printing can be used to make the processes easier.
Long planned, now realized
The 3D printing is a relatively new technology but enjoys great popularity and is now very well established. You can find numerous providers on the market, from small build-it-yourself kits for hobbyists to large systems that can print complete walls from concrete.
Therefore, we have been watching the market for a long time. Trade fair presentations in the past helped us to obtain an overview. Our selection criteria were:
Process
Basically, there are three 3D printing methods, depending on the base material. All of them are layer‑based, i.e. they create the object layer by layer.
Powder-based processes use a fine material powder as base material, which is glued with a type of printhead or fused by a laser/electron beam.
Melting processes use plastic in the form of a filament spool as base material. This is melted in the printhead and merged on the slide as an object.
Light-sensitive, liquid materials can also be used as base materials. Printing is made by layer-wise hardening, e.g. with a laser.
The melting processes on filament base are the most cost-effective processes and the material selection as well as the accuracy meet our requirements.
Easy setup and handling
Since we want to use 3D printing professionally, it is important that it can be used efficiently. Therefore, the cheap build-it-yourself kits are not suitable for our purposes. We simply do not have time during the daily business to assemble a kit and adjust it if necessary, even if the quality is meanwhile quite good.
But the printing process should also be simple. Self-calibrating systems, a suitable software and monitoring should also be included.
Suitable accessories
Not only the printer must be easy to handle. There should also be suitable accessories. Especially, a good software is important, which produces optimal print results in just a few steps. Many parameters can be adjustable, but the printed product has to be usable without hours of clicking.
Another accessory is, of course, the material. The selection of compatible printing filaments should be large and, ideally, their printing parameters should already be stored in the software. In this way, the colour and material selection can be configured more freely and implemented more easily.
Size and structure
The previous demand for housings or tool forms has always been not more than "hand-sized". Therefore, a construction volume of approx. 20 cm x 20 cm x 10 cm should be enough. This is a common dimension for 3D printers. These also fit on a table and can be set up at any workplace. An integrated network interface is also ideal for this purpose. This allows us to start printing in another room from the developer workplace, for example.
Since it is not guaranteed that no one is nearby, a closed construction in which axles rotate inside an enclosure is much safer than an open frame construction in which the axles rotate unprotected in the room.
Number of extruders
For printing any structures, especially cavities, roundings etc., it is necessary not only to print with the basic housing material but also with a so-called support material at the same time. To make this possible, it makes sense to have a second extruder on hand. In this way, the material does not have to be changed all the time. Both materials are processed simultaneously.
Test results of third parties
3D printing enjoys great popularity in the hobby sector. Therefore, there are many forums and websites that deal with this topic. Of course, these reviews also impacted our purchase decision.
Decision to buy
Having carefully weighed the criteria, we decided to buy the Ultimaker S3. Ultimaker is a renowned manufacturer of such printers and offers, in addition to the printer, suitable material and also an extensive software. The enclosure of the printer in a closed housing suits our use in the production area and the double makes it possible to build complex housing forms. Also, the print size of the printed product is sufficient for our purposes. So we decided against the larger Ultimaker S5.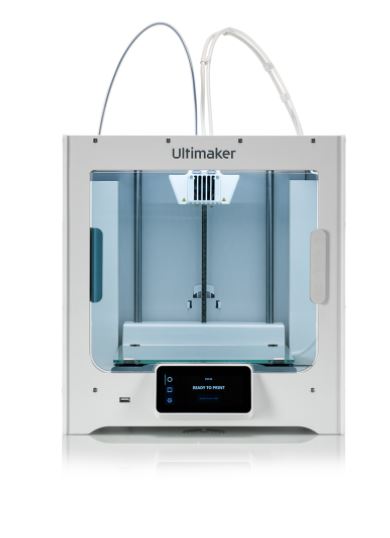 Decided, ordered. Now we are waiting for the delivery. We will continue in another blog post.