MUC500 M 125/ MUC500 M 250/ MUC500 M 500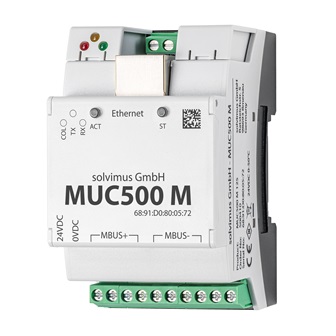 Data concentrators for Smart Metering
MUC500 M 125/ MUC500 M 250/ MUC500 M 500
Description
The powerful data logger for huge installations with 4 GB storage.
Metering interfaces are M-Bus and Modbus TCP. Regarding this communication the MUC500 M offers up to 500 unit loads on the bus lines.
The MUC500 communicates via Ethernet. An integrated web server offers complete configuration via a standard web browser. The automatic bus scan allows an easy setup and selection of data points.
The encrypted or unencrypted data transmission via FTP, MQTT, SMTP (e-mail) and TCP takes place as a CSV, XML or JSON file to an energy management system, billing system or for visualization purposes. The Multi-Channel-Reporting (MCR) function allows the sending data to up to 10 different instances.
Optionally, the MUC500 is also available with Modbus TCP or BACnet/IP extension.
Find out more about our data loggers in our blog posts.
Downloads