MBUS-GSLE125 / MBUS-GSLE250 / MBUS-GSLE500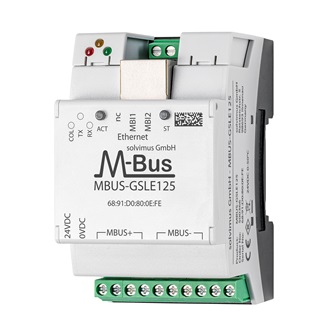 Data concentrators for Smart Metering
MBUS-GSLE125 / MBUS-GSLE250 / MBUS-GSLE500
Description
A special position takes the MBUS-GSLE. It is a data logger that nearly utilizes the same software like the MUC.easy series. The specialty are its physical interfaces while the software capabilities are comparable to those of the other data concentrators. It is an unique combination of an M-Bus master and an M-Bus slave. The field of application are existing M-Bus installations. The MBUS-GSLE can be installed between existing master and the connected meters. From now on, it will read the meters instead of the former master. All the features from the MUC.easy are available and will help shorten the readout cycle or gathering any additional data. The M-Bus slave interface is used for representing the meter data also to the former master.
The MBUS-GSLE is available for 125, 250 and 500 unit loads.
The MBUS-GSLE communicates via Ethernet. In addition, the data are retrievable via Modbus TCP.
The encrypted or unencrypted data transmission via FTP, MQTT, SMTP (e-mail) and TCP takes place as a CSV, XML or JSON file to an energy management system, billing system and the former master (M-Bus) or for visualization purposes.
The Multi-Channel-Reporting (MCR) function allows the sending data to up to 10 different instances.
Optionally, it is also available with Modbus TCP or BACnet/IP extension.
Find out more about our data loggers in our blog posts.
Downloads