Software developer (m/f/d)
Job requirements
Your Prospects
You will receive market-driven remuneration with flexible working hours
An appreciative cooperation in a highly motivated and dynamic team, with open communication within flat hierarchies
Exciting and varied tasks every day
Workplace health promotion, e.g. ergonomic workplaces, promotion of non-smoking, etc.
Fruit and drinks are free of charge – every day
You receive Christmas and holiday bonuses
Participation in various, exceptional team events (monthly as well as seasonal)
Financial security through company pension schemes
Your personal and professional development is actively encouraged
Your Tasks
Independent software development on embedded devices and microcontrollers in C/C++
Creation of applications or scripts on embedded devices with Linux OS
Test and documentation
Direct customer communication as interface to the support team
Your Profile
Completed studies in computer science or business informatics or a completed apprenticeship with initial work experience
In-depth knowledge of programming with C/C++
Knowledge of one or more scripting languages such as Javascript, Python, PHP
Knowledge of Linux, Yocto, Qt and web-supported user interfaces is also advantageous
Experienced handling of version systems (e.g. svn, git)
Good knowledge of modern information and communication technologies, especially in the areas of computer systems (Linux) and network technology (TCP/IP)
Interest in communication technologies
Strong team and communication skills and enjoy working with customers
Systematic and independent working method
Very good knowledge of English
You want to develop yourself personally?
Get in touch with us if you would like to find out what opportunities are still available in this position.
Contact person:
Katharina Berndt
(+49 3677 7613060)
We are looking forward to your application documents to: bewerbung@solvimus.de
Get to know us better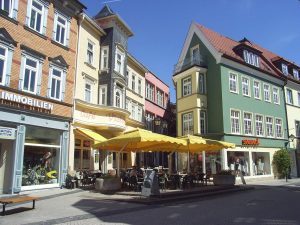 Living and working in Ilmenau
You haven't found the right job?
Send us your application directly. If we find a place for you, we will contact you.